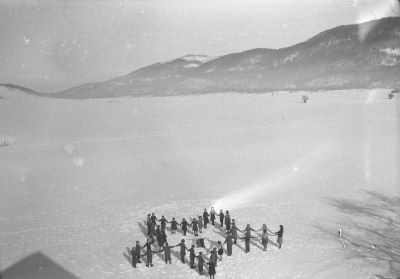 Was Dancing Possible During the Fascist Occupation of Yugoslavia?
Abstract
The paper focuses on the lesser-known moments of the partisan performances from the Yugoslav liberation struggle by highlighting three points: firstly, all of the analysed performances have survived in the form of photographs by the established contemporaneous partisan photographers Jože Petek and Edi Šelhaus. Secondly, Marta Paulin-Brina, who became the most famous partisan dancer, will be commented on through the prism of the partisan poem "Anthem to Agitprop Theatre" by Janez Kardelj. And thirdly, we will look at the performances of partisan school children that formed a star, a symbol of partisan resistance, and the name 'Tito' with their bodies in a snowy field. Despite the political recommendation that partisan photography should be limited to reportage and documentation, the last case studies serve as evidence of peculiar staging and performing for the partisan camera and thus subvert the propagandistic reductionism. These performances were addressing the community-in-resistance, that is, they expressed symbols of the liberation itself, and even anticipated the future ritual performance under the aegis of the Titoist state.
Keywords
Marta Paulin-Brina; Josip Broz Tito; Yugoslavia; People's Liberation Struggle; partisan performances; dance; intermediality; photographic archive of the liberation; Anthem to Agitational Theatre.
DOI:
http://dx.doi.org/10.17892/app.2020.00011.238

Apparatus. ISSN 2365-7758