Community, Myth, and Metaphor in Pavel Kostomarov's Outbreak Thriller Series Epidemiia / To the Lake (2019)
Irina Souch

University of Amsterdam
Keywords:
Iana Vagner, Jana Vagnerová, Russian TV series, outbreak narrative, pandemic, biopolitics, genre, community.
Abstract
The article discusses the 2019 Russian television series Epidemiia / To the Lake (TNT Premier/Netflix), directed by Pavel Kostomarov and based on Iana Vagner's best selling dystopian novel about a lethal viral epidemic in contemporary Russia. Following Priscilla Wald's seminal contention that conventional outbreak narratives revolve around the insight that "the interactions that make us sick also constitute us as a community" (2008, 2), I consider how To the Lake encompasses the breadth of responses to an aggressive viral threat 'predicting' the reactions of national governments and citizenry to the real Covid-19 pandemic the world is in the midst of currently. Such ostensibly prophetic nature of the series spotlights the mutually reinforcing relation between a longstanding and increasingly globalised cultural imagination about contagious disease and the medical and political interpretations of an actual pandemic. The article's aim is, therefore, to interrogate the arsenal of the outbreak-related tropes the series employs to unveil their cultural and ideological significance both for international and domestic audiences. In addition to Priscilla Wald's concept of "outbreak narrative," the article engages with Susan Sontag's work on bio-politics of disease, Benedict Anderson's theory of imagined community, and Kaja Silverman's notion of "the dominant fiction" which places patriarchal family at the centre of a vital (national) community.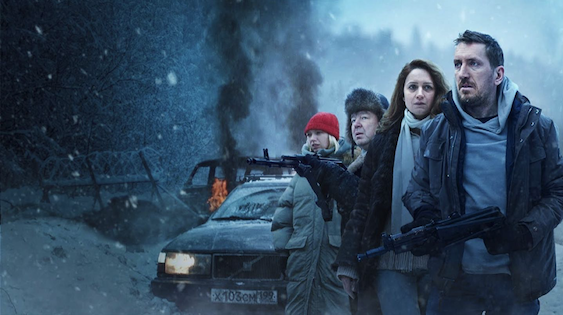 How to Cite
Souch, I. (2021). Community, Myth, and Metaphor in Pavel Kostomarov's Outbreak Thriller Series Epidemiia / To the Lake (2019). Apparatus. Film, Media and Digital Cultures of Central and Eastern Europe, (12). https://doi.org/10.17892/app.2021.00012.252
Section
Articles: Pandemic Cinema in Central and Eastern Europe
Copyright (c) 2021 Apparatus. Film, Media and Digital Cultures of Central and Eastern Europe
This work is licensed under a Creative Commons Attribution 4.0 International License.
The articles in Apparatus are published under https://creativecommons.org/licenses/by/4.0/ This license does not apply to the media referenced, which are subject to the individual rights owner's terms.
The authors hold the copyright without restrictions and retain publishing rights without restrictions.