Imitation of the Nonhuman
Władisław Starewicz's Entomological Cinema
Keywords:
Władisław Starewicz, Jussi Parikka, Mikhail Iampolski, Central Europe, Eastern Europe, Imperial Russia, entomology, posthumanism, mimesis, animation, stop-motion
Abstract
This study offers a post-humanist framework for the analysis of Władisław Starewicz's entomological animations from Imperial Russia, arguing that these unique artefacts of film history provide a non-anthropocentric alternative to so-called post-Disney practices. It demonstrates that Starewicz's work with nonhuman protagonists in Prekrasnaia Liukanida / The Beautiful Leukanida (1912, Russian Empire) and Mest' kinematograficheskogo operatora / The Cameraman's Revenge (1912, Russian Empire) generates an idiosyncratic approach to animated movement that the director retains throughout his oeuvre, arguing that even Starewicz's most anthropomorphic films, such as Fétiche Mascotte / The Mascot (1933, France) and Reinicke Fuchs / The Tale of the Fox (1937, Germany) mimic the entomology-driven animation style that the director developed in his early films. This trajectory from animating insect bodies to dolls has previously been treated teleologically by some scholars, with The Tale of The Fox cited as the apotheosis of Starewicz's career and the oft-neglected insect films presumed to be inchoate predecessors to his later dolls. However, this article takes a different position, arguing that Starewicz's innovations in later films were only possible thanks to the tremendous popularity and developments of his earlier entomological endeavours. This approach considers Starewicz's use of the nonhuman to be foundational for his filmography, suggesting that all Starewicz's stop-motion films remain entomological. When his films are approached through Jussi Parikka's challenge to consider natural media as a tool for rethinking human media, opportunities for action vis-a-vis animation and novel considerations in issues of scale, content, and style are revealed.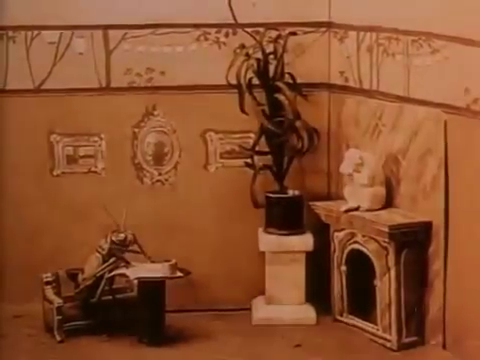 Downloads
How to Cite
Tropnikova, Anna. 2023. "Imitation of the Nonhuman: Władisław Starewicz's Entomological Cinema". Apparatus. Film, Media and Digital Cultures of Central and Eastern Europe, no. 16 (April). https://doi.org/10.17892/app.2023.00016.279.
Section
Articles: The Haunted Medium
License
The articles in Apparatus are published under https://creativecommons.org/licenses/by/4.0/ This license does not apply to the media referenced, which are subject to the individual rights owner's terms.
The authors hold the copyright without restrictions and retain publishing rights without restrictions.